No project, or environment is the same. For this reason, Dobson Lawn & Landscape Inc. offers a variety of services to provide the best solution for our clients. There is no need to contract and manage multiple companies to get your project done. With our extensive network of contractors, Dobson Lawn & Landscape Inc. can do the footwork for you. We will get to know your needs and wishes, and will efficiently complete your project for you.

EXPERIENCE IS THE DIFFERENCE
As a full service landscape contractor, Dobson Lawn & Landscape is able to offer you a complete range of services, from design concept, hardscape construction, landscape installation, to plant and turf health care and maintenance.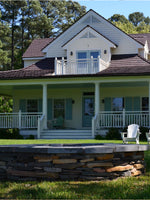 OVER 20 YEARS OF EXPERTISE
Dobson Lawn & Landscape Inc. is a small, family owned business located in St. Michaels, Maryland. Owner, and President, Timmy Dobson, Jr. works closely with his clients to make sure their project is something they are satisfied with for years to come.
In business for over twenty years, Dobson Lawn & Landscape Inc. offers services ranging from landscape design, buffer management plans to meet Talbot County requirements, landscape and hardscape installation, and full service property and estate maintenance.
During his 20 plus years in business Timmy Dobson, Jr. has gained a broad knowledge base of horticulture, design, and construction through hands-on experience and continuing education. The benefit of this knowledge and experience is a landscape that is tailored to fit your needs and wants.
Dobson Lawn & Landscape Inc. offers excellent customer service, and quality landscape construction and maintenance at reasonable prices
CONTACT US ➤
THE DESIGNING EXPERIENCE
We pride ourselves in doing the job correctly the first time. A landscape plan that can be implemented all at once, or in phases, we will help make this happen. When it comes to design we will work hand-in- hand with each client to design an outdoor living space that can be enjoyed for years to come.
Dobson Lawn & Landscape Inc. doesn't look at a walkway merely as a way to get you to your front door, a planting bed simply as a place to install plants, or a patio as just a place to sit. Instead, we view these areas as a canvas where materials are used to create a visually pleasing outdoor living space that takes your dream ideas and turns them into a reality -- to provide form, functionality, and interest throughout the year. 
We view every project as an opportunity to create an individualized landscape, tailored to meet your needs.
Location
DOBSON TREE & LANDSCAPE
DOBSON TREE & LANDSCAPE
Located just outside of St. Michaels, Maryland, but creating beautiful landscapes all over the Eastern Shore of Maryland.
OFFICE
7461 Solitude Road
St. Michaels, MD 21663
e: dobson@dobsonlandscape.com
p: 410-745-6935
OFFICE HOURS
 Monday - Friday 7:30- 4:30,
closing for lunch between 12-1 pm.